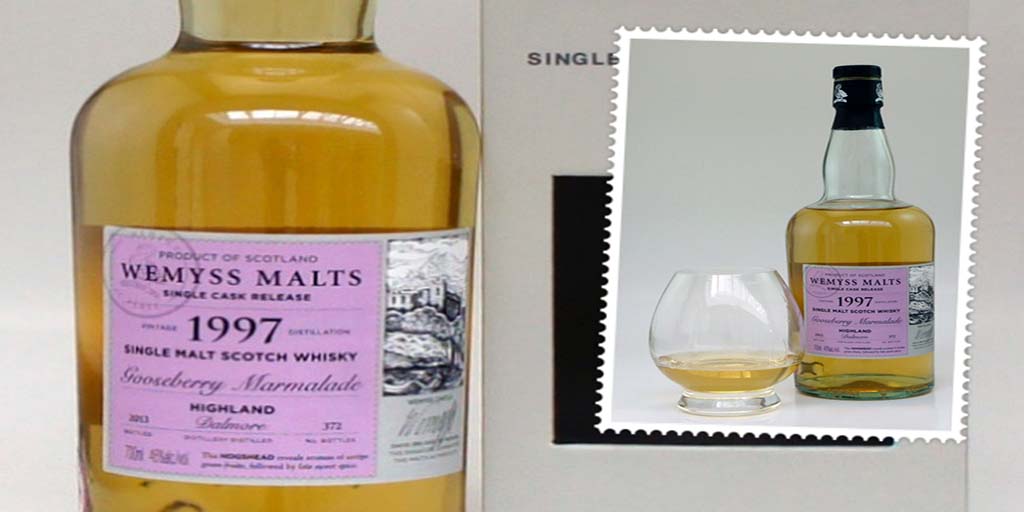 Wemyss Malts is an independent bottler of malt whiskies from Scotland.  The Wemyss Malt offices are in Edinburgh but the Wemyss Estate is in Fife Scotland.  The Wemyss family whisky connection dates back to the beginning of the 19th century.  The first distillery on Wemyss land was built when John Haig constructed his distillery, on Wemyss land.   The family has a longstanding passion for malt whisky.  Even today, barley from the Wemyss Estate is prized by many of the leading distillers.  Today I try the Wemyss Gooseberry Marmalade.
John Haig's Cameron Bridge distillery, famous for the first distillery to produce grain whisky using the Column still method, is located just a few miles from the castle. Wemyss Malts has a range of both blended malts and Single Cask releases. The blended malts include 'The Hive' and 'Spice King'.
Wemyss Malts also has specially selected Single Cask releases, all of which are chosen under the expert guidance of Charlie Maclean.   Each cask that is chosen for bottling is representative of the best characteristics of its regional origin.  The strict selection process limits the number of casks in this range.

After the Nosing Panel has selected the casks, they then delve into the flavour profile of the casks.  This ensures that the name given to each whisky reflects the unique aromas and flavours found within the bottle.  All of the Wemyss Single Cask offerings are non chill-filtered and free of artificial colouring.
Related Article: Wemyss Brandy Casket
Tasting notes Wemyss Gooseberry Marmalade
We managed to get our hands on a Wemyss Gooseberry Marmalade.  Distilled in 1997, bottled in 2013.  From the Dalmore distillery on the northern shores of the Firth of Cromarty, deep in the spectacular Scottish Highlands.  Only 372 bottles of this edition was released.
ABV: The Single Cask range is bottled at 46% ABV.
COLOUR: Virgin olive oil.
NOSE: The Wemyss Gooseberry Marmalade nose brings many sweet notes reminiscent of fruits of the forest.  It has a wonderful warm enticing nose, tempting you to try the whisky.
PALATE: Rich with oak, spice, liquorice sweetness and tart gooseberry with hints of bitter marmalade.  It is a sweet medium bodied whisky.
FINISH: The Wemyss Gooseberry Marmalade finish brings wood with more citrus and it is a medium length finish.  A special  bottle of whisky for a special occasion.  Something to savor and enjoy.  If you can get your hands on a bottle, it is certainly worth it.
RATING: EXCELLENT.
Also read: Penderyn Welsh Whisky