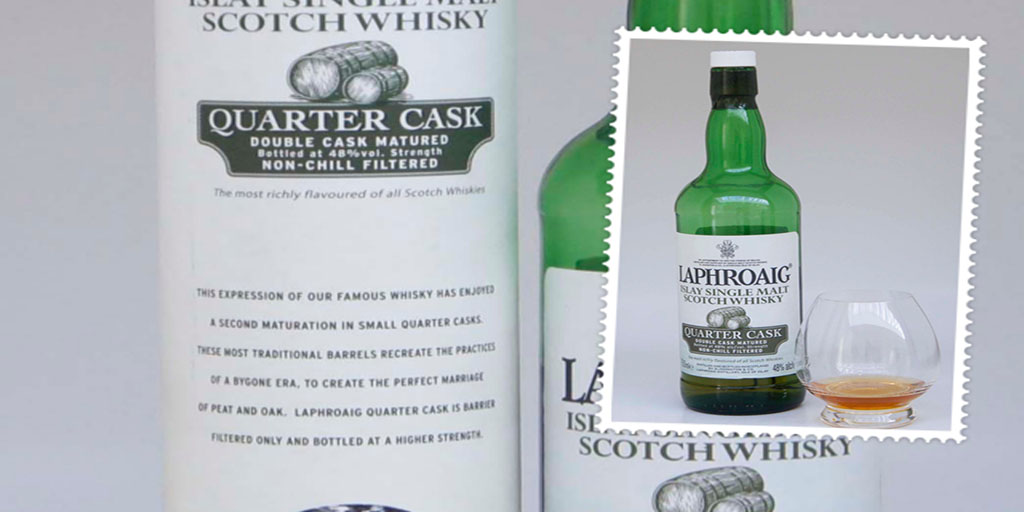 This is one of the bottles that have been in my collection for ages. I keep on drinking it, but never writing about it. So, with the Laphroaig Distillery 200 year anniversary during 2015 and before we finish this bottle, I decided that it is time to officially taste the Laphroaig Quarter Cask. Laphroaig is names after Loch Laphroaig on the south coast of Islay. Donald and Alexander Johnston established the distillery in 1815.
Members of the Johnston family mainly ran the distillery. There was a short spell where Donald Johnston died after falling into a scaulding kettle and for a period the manager of Lagavulin, Walter Graham, ran Laphroaig. Lagavulin is only a short distance from Laphroaig.
Laphroaig returned to Johnston hands again in 1857. In 1954, Ian Hunter, a nephew of Sandy Johnston died and left the distillery to one of his managers. After this, the distillery changed hands a few times and ended up as part of the Beam Suntory brands in 2014.

Also Read:  Laphroaig An Cuan Mor
The Laphroaig flavor is recognised world wide and comes in part from its vicinity to the coast and the high moss content of its peat, which is processed on the distillery's own maltings floor.
Laphroaig is celebrating 200 years of making whisky on Islay in 2015. They released the very entertaining #OpinionsWelcome campaign. The video is worth watching. You can also go to their website and add your own Laphroaig opinion.
The Laphroaig Quarter Cask was released in 2004. This expression is first aged in the standard oak casks and then transferred to smaller quarter casks for a further period. Due to the smaller barrels used, the oak surface whisky contact is greater than with standard barrels.


Also Read: Laphroaig PX Cask
Tasting notes for the Laphroaig Quarter Cask

ABV: Laphroaig Quarter Cask has an ABV of 48%
COLOUR: A beautiful golden colour .
NOSE: This is an absolutely classic Islay malt and epitomizes the Laphroaig style. Burnt peat, seaweed and  iodine come to the front. Mild smoke and a surprising hint of spicy sweetness. The typical medicinal notes floating in the background. A bold rich  complex aroma.
PALATE: It's a perfect dram at the end of a long and hard week. There are notes of peat, smoke and some seaweed floating about.  Hints of iodine, citrus  and honey. In the background lurks some oak, liquorice and fruity notes. The palate feels rich and thick befitting a proper Islay Whisky. The addition of water makes the Laphroaig Quarter Cask smoother  and softens the medicinal notes. Water brings out more of the ashy notes, however the dram remains big and bold.
FINISH: It's long and it's lingering and it's complex.  It changes from peat to sweet to spicy. Nevertheless, it leaves you with a warm feeling in your stomach. Long after you've swallowed, the Laphroaig Quarter Cask is still serenading you with its brilliance.
When you had a long hard week and you just want to sit back and relax with a complex dram that will take you mind off, this Laphroaig Quarter Cask is the perfect dram.  I give the Laphroaig Quarter Cask a RATING: EXCELLENT.  This is the embodiment of the Islay style.  Rich, big bold peaty in your face wonderful.
My Laphroaig Quarter Cask #OpinionsWelcome version … What is yours?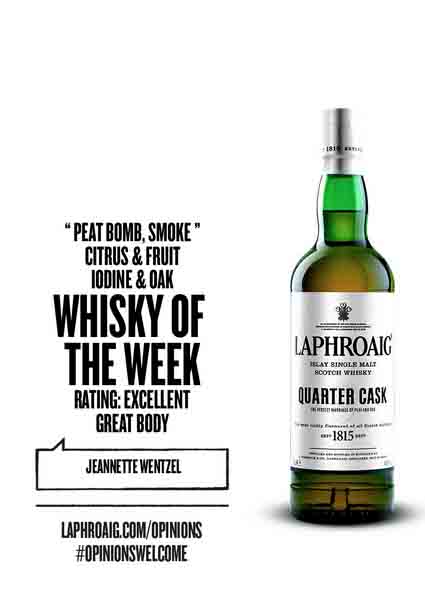 Also Read:  Three Ships 10 yo Vintage