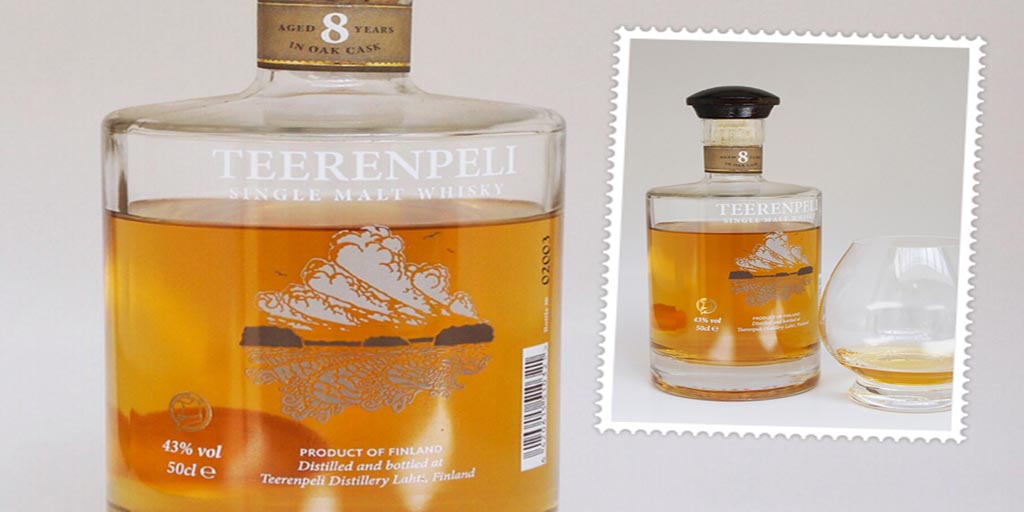 Teerenpeli started as a restaurant with a  micro brewery in 1995 in the city of Lahti in Finland. And what is the next step when you make great food and great beer? You open a distillery.  In 2002, the Teerenpeli distillery began operating. Teerenpeli Single Malt is distilled with Finnish malted barley and with fresh groundwater from the Salpausselkä ridge.  The distillery has the traditional pot-still set up.
 One of the reviews mentioned that Teerenpeli has used Highland Park as the inspiration on the shape of their small pots.  When we found this whisky last year at The Whisky Exchange in London, we definitely had to buy it.   It is the perfect addition to our 'World Wide Single malt' collection and it was from a country that we had no whisky from.
Finland is not a country associated with a dram.  It is a country associated with cold, dark snowy nights, vodka and a close proximity to the Russian Wolf and centuries of Russian aggression.
Related Article:  Mackmyra First Edition
Tasting notes for Teerenpeli Single Malt Whisky
We were not too worried about the taste or rating when we found the Teerenpeli. I just wanted to add a whisky from Finland to my collection. However, we were pleasantly surprised when we tasted the whisky.  It is still a young whisky compared to some of the other bottles in our collection, only 8 years old.  But what a good 8 years it has been!  This 8 yo is bottled from a selection of ex-Bourbon and ex-Sherry casks at
ABV: 43%
COLOUR: The Teerenpeli has a rich golden colour.
NOSE:  Notes of floral and light citrus with a hint of oak.  It is a smooth delicate whisky.
PALATE: Barley and oak, florals with fruits and vanilla.  The Teerenpeli is a nice medium bodied whisky with an oily finish.  The florals and some caramel and spice continue in the finish. It has wonderful body for such a young whisky and is clean and light.
As a result, we rated the Teerenpeli whisky as EXCELLENT.  It is definitely a distillery to keep an eye on in future.
Pairing this sweet clean whisky should be done carefully as to not overwhelm the whisky.  A fruit infused 60% chocolate would probably work nicely with this Teerenpeli whisky.  What else would you pair this sweet light whisky with?
Also Read: Cocktail Gift Ideas:  SPLURGE vs SAVE